Comprehensive Crime Prevention Programs
ACPI provides the broadest selection of crime prevention and security training programs available, offering a one-stop source for all of your professional development needs.

Benefits of our programs include:
Deep dive training on hundreds of crime prevention and security topics
Highly practical strategies that deliver real, measurable value
Lifetime certifications (select programs) to support career advancement
Highly regarded instructors with decades of operational experience
Multiple learning formats to meet your needs, budget and schedule
Collaboration with peers and instructors to answer questions and share best practices
Continuous content development covering new and timely topics
Unlimited access to course materials, resources and information
Current Live Program Schedule
The courses currently scheduled to be presented live online are summarized below. Please click on any of the individual courses above for on-demand options
Crime Prevention Through Community Engagement
Crime and Violence Prevention in the Faith-Based Community

(NEW)
School Security Assessments
Crime Prevention Through Environmental Design
Private Certification Programs
We can work with your agency, company or organization to conduct training exclusively for a group you designate. Content may be tailored for your unique needs and situation, and may be delivered in-person at your facilities or remotely online.
Frequently asked questions
Who should attend these programs?
ACPI courses have been developed for anyone involved in the safety and security of buildings, campuses and communities. This includes state and local law enforcement, campus law enforcement, community planners, school administrators, architects, designers, security and loss prevention professionals, security consultants and security service providers. Some programs are also highly relevant to individual businesses and business owners.
Any course that is marked as a "Certification Program" does have an exam at the end. Exams will be administered online, and attendees must complete the exam successfully in order to be credited with the accompanying certification.
Do the certifications expire?
No. All ACPI certifications are lifetime.
Will I have access to the slides?
Yes. All programs - whether live, self-paced or in-person - will have an accompanying website that contains the presentation materials and any related handouts and resources. Please note that the slides are proprietary intellectual property of ACPI, and to prevent unauthorized distribution we do not allow them to be downloaded to your computer. You will, however, have access to them in perpetuity and we also offer the option of purchasing printed copies directly from our printing partner. Contact us to learn more.
Can I register a group of people at one time?
Yes. We offer discounts for registering multiple people from the same organization at the same time. See each course page for more details.
Can I register someone other than myself?
Yes. During checkout you have the ability to enter different information for the billing contact and the attendee(s).
We have made it easy for you to register and pay for our courses. Click the Register Now button and you can choose to register an individual (full price) or a group (discounted price). After completing the attendee information you will be given a choice to pay online securely via credit card, or you may request an invoice and pay by check or bank transfer. If you elect to pay by invoice, it will be emailed to you immediately with instructions on how to remit payment. Once payment is received you will be automatically enrolled in the course and registered attendees will receive instructions on how to join via email.
I cannot use a credit card. Can I pay by check or other method instead?
Yes. During checkout we allow you to either pay immediately via credit card or select to pay offline via check or bank transfer. If you select to pay offline, your registration(s) will not be finalized until final payment is received.
Do I need technical skills or special equipment to attend?
No! You can attend the course from any location with internet access using any type of device - computer, laptop, tablet or smartphone. Our online learning management system is extremely easy to use, but we have also added a brief overview video to walk you through navigating the program online.
Stay Informed
Sign up here to receive timely news, tips and other information related to crime prevention and security. We promise not to overload your inbox, and we will never, ever share your contact information.
Which format is right for you?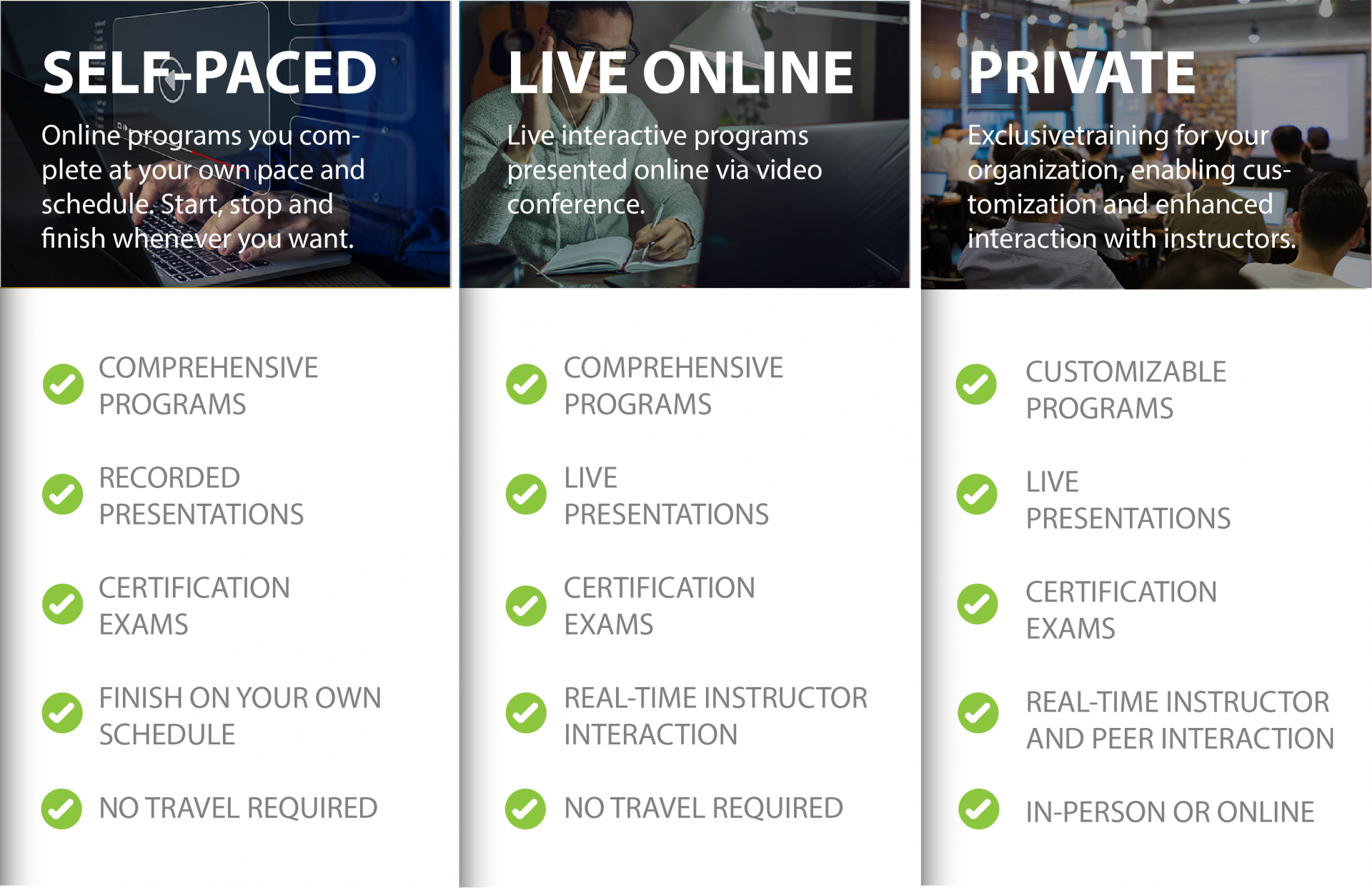 Created with